Links zum Teilen der Seite überspringen
The LOTTE LOTTE LEHMANN ACADEMY addresses the specific challenges that singers embarking on a career on the international operatic stage face today.

While the public image of opera seems positively rejuvenated, stories about the burnout and impending collapse of many young shooting stars abound. Often, the crazed search for the next big thing in competitions tempts opera managers, agents and conductors to use up their choice singers before they can reach their full potential.

Conservatories and theaters generally lack the time and resources to prepare the next generation of singers for a long, sustainable career and healthy repertoire choices.

At the LOTTE LEHMANN ACADEMY, young singers will find an exigent and supportive environment for professional growth and a network of experienced world-class professionals that will support them and provide the tools they need in order to ensure vocal longevity and build and develop sustainable careers.
The LOTTE LEHMANN ACADEMY offers an intensive and integrated course program, and an atmosphere that is distinguished by a dialogue of the creative parties in opera. We thus aim to recreate the kind of relationships Lotte Lehmann enjoyed with the outstanding conductors, directors and composers of her age.

The LOTTE LEHMANN ACADEMY takes its cue from Lehmann's philosophy that music must speak through "voices with personality and personalities with a voice" - characteristic, self-reliant artists who are conscious of the great tradition that they serve - singers who perpetuate the magic of opera and classical singing in a creative, respectful and passionate relationship with their public and peers.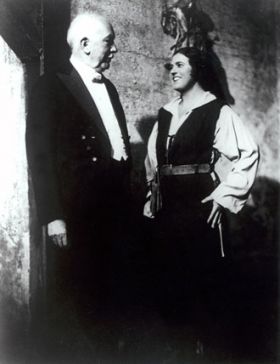 LOTTE LEHMANN AS LENORE IN FIDELIO TOGETHER WITH RICHARD STRAUSS - 1932/33