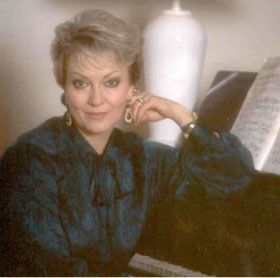 Karan Armstrong (USA/Deutschland)
Masterclasses and Voice
KS Karan Armstrong studied privately with Lotte Lehmann, the conductor Fritz Zweig and his wife Tilly de Garmo in Santa Barbara. She made her debut in 1965 as Musetta in Puccini's La Bohème at the San Francisco Opera and shortly thereafter at the New York Met. In 1974 she made her European debut at the Opéra du Rhin in Strasbourg as Micaela in Bizet's Carmen. She achieved a sensational success the following year as Salome at the same house. Her career took her to the Opéra de Paris to Covent Garden to the Deutsche Oper Berlin and the Vienna State Opera. At the Bayreuth Festival in 1979 she sang the Elsa in Lohengrin in the staging of her future husband Götz Friedrich.
Karan Armstrong is considered a "prima donna of modern music." She took part in many world premieres of leading composers in major opera centers around the world - Berios Un re in ascolto (Salzburg Festival 1984), Sinopolis Lou Salomé (Munich 1981), and von Einem's Jesu Hochzeit (Vienna, 1980), up to York Höller's The Master and Margarita (Paris, 1989). With her signature vocal and dramatic intensity, she also performed a wide range of lyric and lirico-spinto soprano roles (Tosca, Sieglinde, Butterfly, Mimì, Traviata, Mélisande).
She took part in many important revivals of key works of the early 20th century and won international acclaim for her interpretations of the great female characters in Berg's Lulu and Wozzeck, in Korngold's Die tote Stadt, Shostakovich's Lady Macbeth of Mtsensk, Janacek's Katia Kabanova and The Makropoulos Case.
Her career now lasting for more than four decades, Karan Armstrong has expanded her repertoire into the dramatic (Färberin, Fidelio-Leonore, Brünnhilde, Ortrud, Kundry) as well as character roles (Klytämnestra in Elektra, Begbick in Mahagonny, Kostelnicka in Jenufa).
Karan Armstrong was awarded the German Federal Cross of Merit and was appointed Baden-Württembergische Kammersängerin in 1985. In 1994 she received the same title from the state of Berlin. In addition to her stage career, Karan Armstrong gives masterclasses for young singers worldwide and has also successfully directed at the Volkstheater Rostock (La Traviata) and at the Kammeroper Schloss Rheinsberg Festival.
In addition to numerous recordings, Karan Armstrong's artistic work is also documented in filmed productions of Verdi's Falstaff, Richard Strauss' Salome, Schönberg's Erwartung, Korngold's Die tote Stadt, and Poulenc's La voix humaine.