THE 12th LOTTE LEHMANN SUMMER ACADEMY, PERLEBERG
2 - 23 AUGUST 2020
The corona pandemic has made its mark early and with particular force in opera and the performing arts. The 12th Lotte Lehmann Summer Academy is still months away. As we proceed in our planning, the health and safety of our Akademie community is paramount. At this time we are confident that our program can take place as scheduled. This is a fluid situation and we will communicate our response as matters evolve. We have extended our application deadline to June 15 so as to make sure no singers interested lose out on the opportunity to apply. Applicants for scholarships are nevertheless advised to send their materials quickly. Stay healthy, safe and strong – we look forward to a wonderful Summer with you in Perleberg!
Angelo Raciti, Artistc Director
Experience the most intensive, individual and focused training for a successful career start in European theatres and the German repertoire system. Join a passionate community of mentors and peers sharing essential expertise, experience, support, and motivation for a lasting professional career in Opera.
The Akademie modules are for emerging singers and young coaches seeking
Singers Modules: intensive preparation of new or key repertoire for auditions, competitions, exams and actual performances, or simply to further develop their technique and artistry and can be booked in units of –
3 weeks/2.400 €, 2 weeks/1.700 €, 1 week/1.000 €
Pianist Module: Also available is a dedicated 3-week module for apprentice coaches (900 €).
Travel costs, accommodation and board are not included in the tuition fees. Applicants for the 3 and 2 weeks modules are eligible for scholarships.
Training the complete artist through a unique combination of one-on-one lessons with top-level singers, group and individual lessons in bodywork, language coaching and stagecraft, a dedicated Performance Enhancement workshop, auditions with extensive and constructive feedback by agents and casting directors from German theaters, seminars and roundtables on the German and European opera world, and regular German lessons tailored to participants' specific needs and requests.
Our faculty are singers with careers of 2-4 decades at the very top of the profession -singing at the Metropolitan Opera New York, Royal Opera House Covent Garden London, Opéra de Paris, Teatro alla Scala Milano, Bavarian State Opera, Semperoper Dresden, Berlin State Opera the Festivals of Bayreuth and Salzburg etc., experienced pianists and directors active in major German and European theaters, and seasoned coaches for bodywork, stagecraft, language and style.
Perleberg, the birthtown of legendary soprano Lotte Lehmann, provides a perfect location for concentrated work and enjoying the great community with faculty, peers and local patrons, including free post-performance dinners and excursions to neighboring estates and the countryside.
The Akademie Concert Series takes place in some of the most beautiful historical venues of the region and draws a large and enthusiastic audience.
With its unique combination of intensive work and a true community of learning and artistic growth, the Lotte Lehmann Akademie will take you to a new level of professional skill, enthusiasm, conviction and confidence.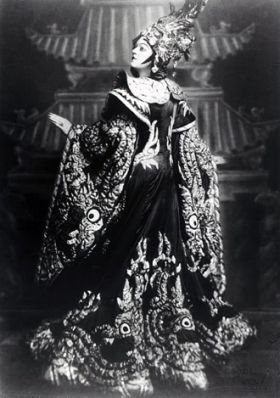 LOTTE LEHMANN AS TURANDOT